WTF is "These Machines Kill Fascists"?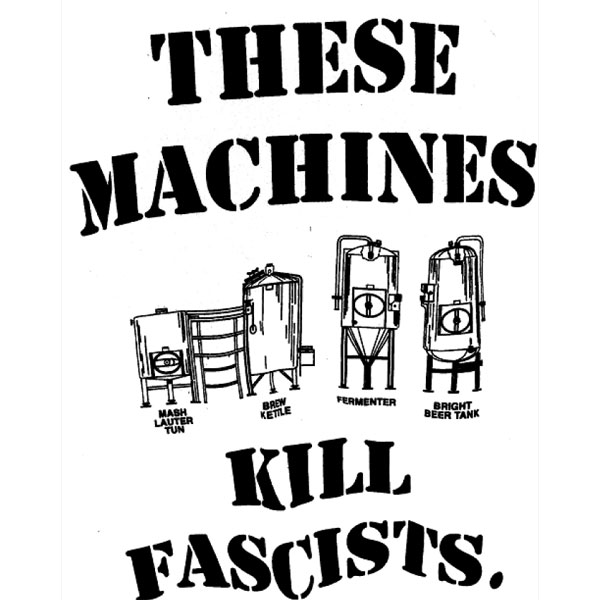 What does it mean? I'm often asked to explain the meaning of NABC's t-shirts, which for several years have borne the slogan, "These Machines Kill Fascists," alongside a graphic of brewing vessels.
For starters, it pays tribute to the iconic American folksinger Woody Guthrie (1912-1967). Guthrie came of age during the Great Depression and the Dust Bowl, twin economic and environmental catastrophes that defined a generation during the 1930s. His songs chronicled the hardships of ordinary people, expressing empathy for their struggles and support for causes he viewed as proper correctives: Worker rights, unionization, and racial and gender equality.
Guthrie was a leftist, and had he lived today, likely would not have voted for Mitt Romney. But he remained a patriot and a firm believer in the potential of America, an idealistic and hopeful vision not defined entirely by wealth and privilege.
During World War II, the United States fought against the military aggression of fascism in Germany, Italy and Japan. Guthrie viewed his music as an integral part of the war effort against fascism, and he wrote "This Machine Kills Fascists" on his acoustic guitar. It meant that anti-fascist songs and ideas are as much a weapon against fascism as guns and bullets.
"This Machine Kills Fascists" also was written on machinery in factories throughout the United States during the war, making the point that even those not actively serving in the military were contributing to the war effort.
NABC's use of the slogan pertains to our own war effort, because brew kettles, mash tuns, fermenters and other brewery equipment are the "machines" we use to make craft beer, and our beer is what we use to fight against fascism in the beer world. Thus, we are making a firm and principled statement about the larger beer market and our place within it. Aggressive multi-national industrial beer producers like AB-InBev, SAB Miller and Molson Coors are the fascists, and smaller entities like us are the freedom fighters.
Brewing craft beer production "kills" beer fascists. Drinking craft beer doesn't hurt, either.