What's up with Houndmouth? The Carnival Barker explains all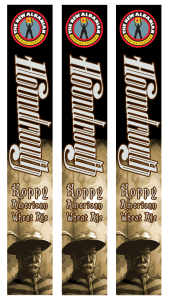 Houndmouth (the band) is somewhere in Europe on an upward trajectory.
But what of Houndmouth, NABC's hoppy American Wheat Ale?
The good news: Given the success of Houndmouth as an ale, NABC's brain trust has decided to continue brewing it as a regular daily session-strength draft selection, and to do so in larger batches at Bank Street Brewhouse. Previous test batches were brewed at our Research & Development at the Pizzeria & Public House.
The slightly less good news: The brewing schedule must be adjusted on the fly to accommodate this decision, and this cannot be facilitated overnight. We'll be dropping the Gold from rotation, and looking for a slot to squeeze in a big initial batch of Houndmouth at BSB. It's a fast finishing ale, so once the batch is brewed, it won't be long until liquid hits glass.
The plan is to have Houndmouth regularly on tap as soon as possible at both NABC locations, and to have it available at as many of the twelve Friday evening Bicentennial Park summer concerts in downtown New Albany as possible, and at other summertime events.
Houndmouth might also be available for purchase by the keg when the organizers of Forecastle realize that local beer perfectly complements local music and imagery. Pardon me if I don't hold my breath on that one. However, we'll get more Houndmouth brewed, and we'll see what happens next.
Thanks for asking.