Tunnel Vision returns with sexy subterranean chic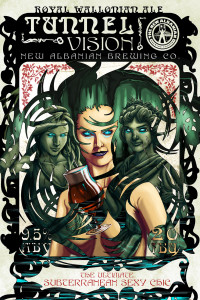 Lots of NABC's customers tell us Tunnel Vision is their favorite, and therein lies a story.
Of course, we appreciate the popularity of Royal Wallonian Ale in the shadow of the mysterious, Ardennes-like Knobs. It's just that there have been so many different Tunnel Visions over the years, so hopefully the one you like the most is the one you're drinking right now.
Tunnel Vision began in the 1990s as a homebrew recipe devised by NABC co-owner Amy Baylor. If memory serves, at one time Tunnel Vision was a staple of the all-female brew-in held annually by the FOSSILS homebrewing club. Amy's recipe included barley, wheat, rye and honey, and was fermented with Belgian yeast. It was of mid-range gravity, and quite popular.
In 2003, NABC's founding brewer Michael Borchers adapted Amy's recipe for our start-up, low-mileage garage brewery at the Pizzeria & Public House. Gallons of honey were required, as delivered to the brewery in dozens of small jars by a Crawford County beekeeper. The first batch was good, but the formulation was complicated, and the logistics involved in shifting from smaller to larger scales of operation invariably resulted in changes and experimentation by Michael and his successors, Jesse Williams and Jared Williamson.
Then the price of honey skyrocketed. You get the drift. Tunnel Vision moved around quite a bit, and then David Pierce became NABC's director of brewing operations in 2009. He locked down the Tunnel Vision formula and made it sing: Five continental malts, Magnum hops, both sweet and curaçao orange peel, coriander seed and Wallonian yeast (brought to America from Belgium under stove pipe hats worn by gnomes seeking refuge beneath the Knobs).
We repositioned Tunnel Vision to be a strong (9.5% abv) seasonal offering in draft and 22-oz Bombers, which have been packaged and are about to hit the streets.
Tunnel Vision is fine all by itself, but we think it's one of NABC's strongest food accompaniments, too. It's tailor-made for the typical Thanksgiving table, but can give lamb chops and pork a run for their money. Ask for Bombers at finer retailers near you, and look for draft not only at NABC's two New Albany locations, but at better metro beer bars.