Tricentennially yours, a renegade collector's edition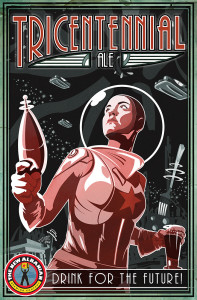 On Friday at both NABC locations, 300-hand numbered 22-0z bomber bottles of our Tricentennial "Post-Colonial" Ale will be available for purchase at $8 each (plus sales tax).
Bank Street Brewhouse and NABC Pizzeria & Public House will split the bulk of the bottles, with a small quantity also allocated for Keg Liquors. This will be the ONLY time Tricentennial Ale is bottled, and once the 300 bottles are gone, they are gone for good.
Also, both locations will have Tricentennial Ale on tap. There'll be a final wave of Tricentennial draft releases around the time of Harvest Homecoming in early October.
Why Tricentennial and not Bicentennial? Go here for the story.