They're barrel-aged: Lock, Stock & Smoking Barrels at Copper & Kings for LCBW 2014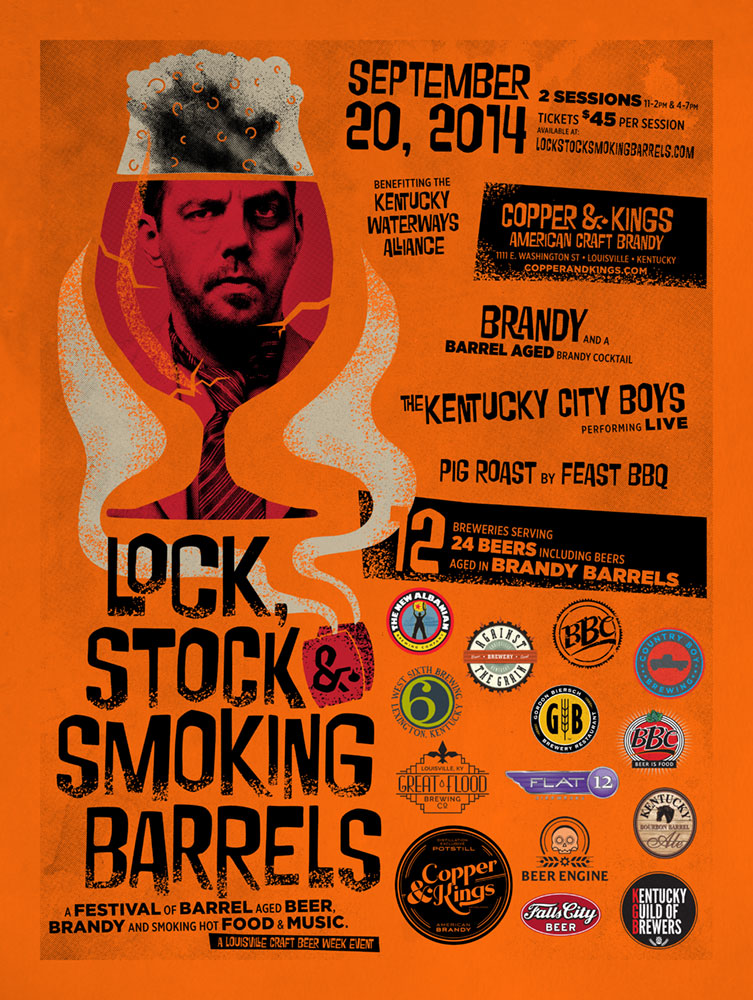 The press release follows. NABC's contribution to this shindig is a keg of Frankensteiner (Bavarian-style Hefeweizen) aged in an apple brandy barrel that formerly held bourbon.
Lock, Stock & Smoking Barrels
Copper & Kings American Brandy Company
Saturday, September 20, 2014
11:00 AM to 7:00 PM (EDT)
Louisville, Kentucky
Louisville brandy distillery Copper & Kings asks regional brewers to make barrel-aged beer for Craft Beer Week tasting event
LOUISVILLE, Ky. (Aug. 14, 2014) – – – Copper & Kings American Brandy Co., 1111 E. Washington St., will host "Lock, Stock & Smoking Barrels" as part of Louisville Craft Beer Week Saturday, Sept. 20. The festival of barrel-aged beer, brandy and smoking hot food and music will take place in two sessions, from 11 a.m. to 2 p.m. and from 4 to 7 p.m., at the craft brandy company's Butchertown distillery. Copper & Kings owners Joe and Lesley Heron asked 12 renowned regional breweries from Kentucky and Indiana to age a one-of-a-kind craft beer of their choice in brandy barrels to serve at the event. The cost is $45 per person, per session. To encourage responsible drinking, designated driver tickets will also be available for $15 per person. For more information or to buy tickets, visit www.lockstocksmokingbarrels.com.
"Brandy rocks but beer is also very close to our hearts," said owner Joe Heron. "In creating Crispin Hard Cider, we developed an appreciation for the art of craft brewing and now we are excited to see what these talented brewers come up with using our Copper & Kings barrels."
Participating brewers include: Against the Grain, Alltech Lexington Brewing Company, Beer Engine, Bluegrass Brewing Company, Country Boy, Falls City, Flat 12, Gordon Biersch, Great Flood, New Albanian and West Sixth. 24 craft beers will be available at the festival event along with a unique single barrel brandy tasting direct from the barrel served by Copper & Kings distillers. Kentucky craft beer and brandy lovers can enjoy a Butchertown cookout prepared by Feast BBQ along with live music from The Kentucky City Boys during the outdoor courtyard party. A portion of the proceeds from the event will benefit the Beargrass Creek Alliance and promote their rain barrel storm water mitigation initiatives.
About Copper & Kings American Brandy Co.:
Copper & Kings uses traditional copper pot-distillation to forge untraditional, craft-distilled, natural pot-still brandies that are non-chill filtered with no added boise, sugar or caramel color. Distilled at a low temperature just twice, Copper & Kings spirits span the spectrum from immature and aged offerings. The state-of-the-art distillery distills world class spirits to enjoy on the rocks, with premium mixers or in the composition of imaginative cocktails. Copper & Kings, located at 1111 E. Washington St. in Butchertown, Louisville, Kentucky. For more information, visit copperandkings.com or follow @CopperAndKings on Facebook and Twitter.