The Fall Flea, this year with NABC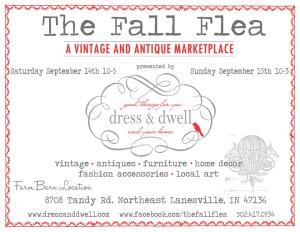 (Updated with beer list, 09/12/13)
The Fall Flea is a countryside vintage and antique marketplace staged concurrently with (and just down the road from) Lanesville Heritage Weekend. Organizer Amanda Gibson, the proprietor of Dress & Dwell in downtown New Albany, asked if we'd be interested in selling Progressive Pints, and of course we are.
Here's the list: Black & Blue Grass, Community Dark and Naughty Girl.
The Fall Flea takes place from 10 a.m. to 5 p.m. on Saturday, September 14, and 10 a.m. to 3 p.m. on Sunday the 15th (note that Lanesville Heritage Weekend begins on Friday and ends on Sunday, and that NABC Tafelbier will be available in the Jaycees Beer Garden there).
We'll be vending from Rosa L. Stumblebus, NABC's draft truck (shown here in service at Bicentennial Park earlier in the summer).