Temple of the Golden Dawn, Black Lung Common headline music and beer this Saturday at Bank Street Brewhouse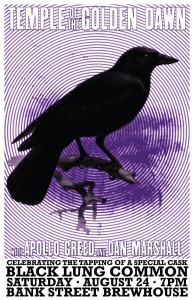 This Saturday's music at Lloyd's Landing (Bank Street Brewhouse's outdoor area) is headlined by our own Brian Reese's Temple of the Golden Dawn (with guests), but with a rare bonus: The only known cask-conditioned firkin of Black Lung Common. It's a dark version of our seasonal Mt. Lee, which also will be on CO2 tap. Chef Matt's crew will be grilling outdoors. It all starts at 7:00 p.m. on Saturday, August 24. Text below is from the Facebook event page.
Temple of the Golden Dawn plays Bank Street Brewhouse in celebration of the tapping of a limited edition cask: Black Lung Common!* Beer nerds take note! This is the only cask of it's kind.
A rare solo performance by Dan Marshall (REDNAILS, Twin Sister Radio) will get the evening started right.
Temple of the Golden Dawn will close the evening out by trying their damnedest to shake the mortar out of all the nearby walls with sheer sonic force.
Chef Matt Weirich will have the grill going on the side patio.
*Black Lung Common is a special BLACK version of Mt. Lee, a dry-hopped California Common. This is the only cask of it's kind, so get it while the gettin' is good!