Take your pick of Thanksgiving weekend events featuring NABC beers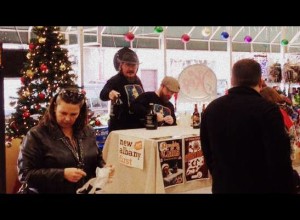 NABC will be very busy on Thanksgiving weekend, 2013, though not on the holiday itself. Thanksgiving Day is on Thursday, November 28, and both NABC locations will be closed. On Friday, the beer schedule explodes.
Plaid Friday is on Friday, November 29. At NABC's Pizzeria & Public House, this is the day when Saturnalia Winter Solstice draft fest begins … and it's the 10th anniversary edition.
Jingle Walk and HolidayFest (Downtown New Albany) takes place during the afternoon on Saturday, November 30. We'll be dispensing samples of Naughty Claus, Tunnel Vision and other NABC favorites on the premises of Keg Liquors.
Later on Saturday evening,  The Nifty $50 Art Show is happening at the Art Store in downtown New Albany. There'll be art, musical entertainment and NABC's Elector and Houndmouth on draft.
Meanwhile, New Albany's favorite band Houndmouth plays Headliners Music Hall in Louisville on the 29th and the 30th (both shows are sold out as of this writing), and by special arrangement, NABC Houndmouth will be available on tap at the venue, which customarily doesn't serve draft beer.
This brings us to 10:00 a.m. on the morning of Sunday, December 1, as Bank Street Brewhouse begins its Sunday Brewhouse Brunch, with our ever-popular build-your-own Bloody Mary Bar, food, and carry-out growlers all day long. Not exactly a nightcap … although perhaps a brunch-cap after a prolific weekend.