Saturnalia Winter Solstice MMXIV and NABC's Naughty Claus release on Plaid Friday, November 28
November 24 Updates
We're tapping Naughty Claus early — look for it on draft at both NABC locations on Wednesday, November 26.
Both NABC locations will be closed on Thanksgiving Day, and reopen on Friday, November 28.
Here's the starting lineup of Saturnalia drafts at the Pizzeria & Public House on Friday, November 28:
Anchor Christmas Ale, 2012
Bell's Christmas Ale
Boulevard Nutcracker Ale
Dark Horse 4 Elf
Haandbrygerriet Bestefar
Mikkeller Santa's Little Helper
NABC Naughty Claus
N'ice Chouffe
Sierra Nevada Celebration Ale
Struise Tsjeeses Reserva
Three Floyds Alpha Klaus Xmas Porter
Stone Ruination Ale with Blonde Roasted Coffee Beans (cask) will be tapped at 3:00 p.m. on Friday, November 28.
Follow the link to the .pdf of the official Saturnalia MMXIV Program.
—
It's almost time for Saturnalia Winter Solstice MMXIV, which kicks off on Plaid Friday, November 28, at NABC's Pizzeria & Public House. This is the eleventh edition of Saturnalia, which first took place in 2004.
For Saturnalia, we source representative samples of winter and seasonal styles (themselves pleasingly varied, in stylistically terms) from guest breweries, and augment them with others that strike us as somehow festive in purely subjective ways. Not only is it fun, but it's also educational, providing Roger with frequent polemical opportunities to pontificate about the importance of unleashing our innermost pagans, all the while waving his arms and yelling about church-state separation.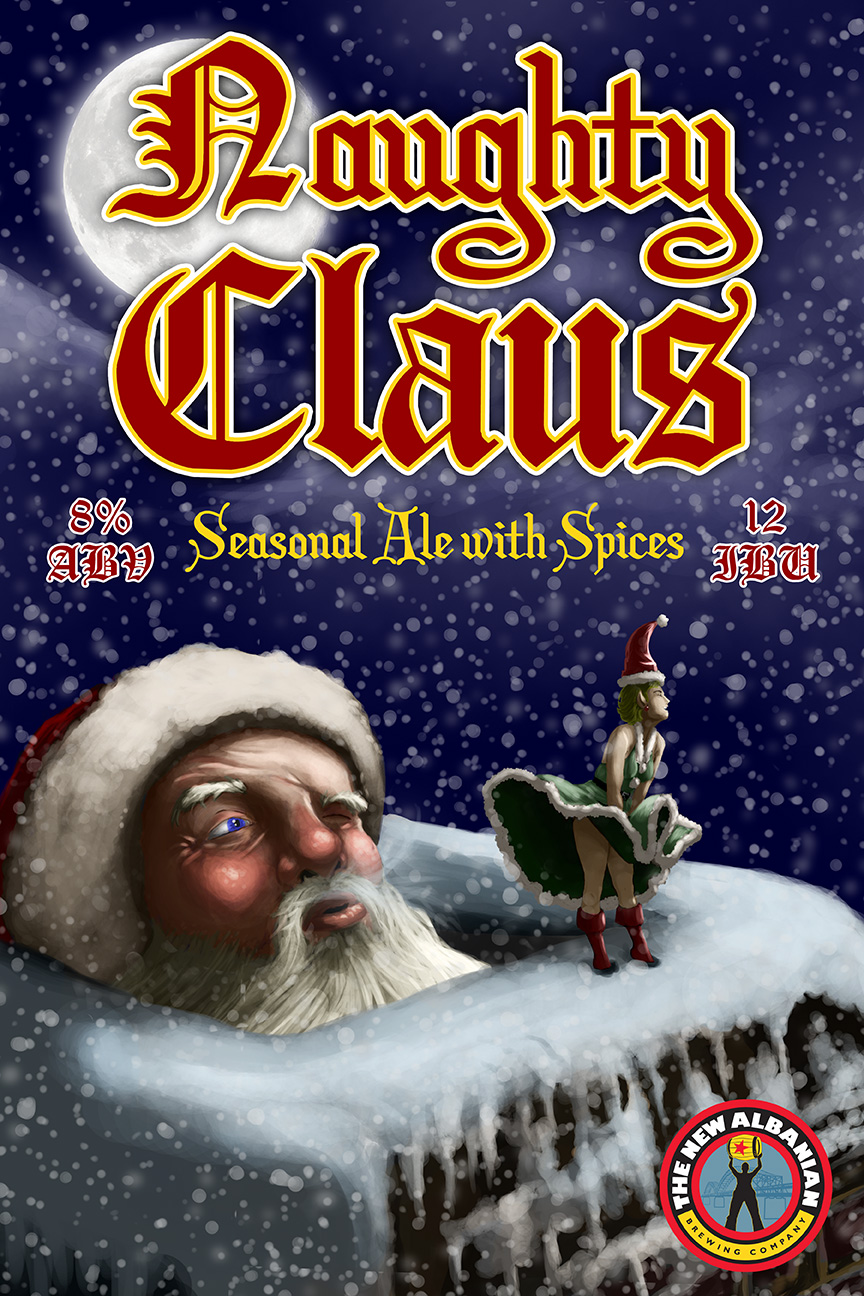 Saturnalia also marks the annual release of NABC's Naughty Claus Spice X-mas Ale. While pre-ordered supplies of Naughty Claus will be shipped to wholesalers and retailers prior to Saturnalia, we'll not begin pouring Naughty Claus (at both NABC locations) until the 28th of November. While we understand the time-sensitive demands of wholesaling, retailing and the wider marketplace, our preference at our own buildings is to be seasonal when seasonal really matters.
Please note that while guest Saturnalia drafts are the exclusive province of NABC's Pizzeria & Public House, Naughty Claus also will begin pouring at Bank Street Brewhouse on the 28th, which we prefer to regard as Plaid (not black) Friday.
The name Plaid Friday was conceived from the idea of weaving the individual threads of small businesses together to create a strong fabric that celebrates the diversity and creativity of independent businesses. Plaid Friday is the relaxing and enjoyable alternative to the big box store "Black Friday," and is designed promote both local and independently owned businesses during the holidays.
Finally, be aware that Saturday, November 29 is the occasion of the annual Holiday Fest and Jingle Walk in downtown New Albany. The walk itself takes place in the afternoon and emphasizes wine tastings in retail shops. Bank Street Brewhouse will stick to serving beer s a refreshing, satisfying alternative.
Following is boilerplate Saturnalia MMXIV program information. Beer descriptions will follow as updated text when the list is completed. This can be a last-minute process. When the planets finally align, there'll be a PDF of the full program available for viewing.
—
Saturnalia Winter Solstice MMXIV … Festive Draft Beers for the Holidaze
2004-2014 … the 11th Anniversary Saturnalia
In pre-Christian Rome, Saturnalia was the annual winter solstice celebration coinciding with the feast days for Saturn (the god of sowing and the harvest), Consus (god of the storage bin) and Opa (goddess of plenty).
Many of our contemporary winter holiday traditions derive from Saturnalia's pagan roots, including the hanging of wreaths and garlands, donations to the needy, prayers for peace, time off work to be enjoyed with family, and of course eating, drinking and merriment. NABC pays tribute to these ancient pagan origins with Saturnalia, our holiday draft celebration.  Dozens of special kegs from the USA and around the world – some rare, some seasonal and others just plain festive – will be pouring at our Pizzeria & Public House at 3312 Plaza Drive.
When the doors open at 11:00 a.m. on our official Saturnalia kick-off day of Plaid Friday (November 28), the first wave of sacrificial MMXIV Saturnalia selections will be tapped in the traditional, ritualistic manner, and the hedonistic pleasures will begin. The remaining kegs will be deployed as the days pass, and the revelry is expected to continue throughout the month of December.
Pricing and portion sizes vary according to alcohol content and style. Expect a few "surprise" kegs to materialize. During the festival's run, information and updates will appear on our web site: www.newalbanian.com