Roger tells the Elector Story
Elector was born 11 years ago next week, and on Tuesday, November 5, 2013, NABC is celebrating the birthday at both locations. There'll be:
$2 Imperial pints of Elector, all day long
$6.66 growler refills of Elector, all day long
The rollout of the new and quite stylish Elector shirts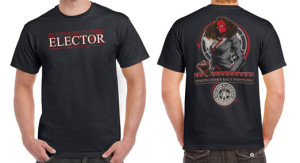 Note also that on the very same day at the Pizzeria & Public House, we're honoring our longtime friends at Rogue with a mini-tap takeover to celebrate the Oregon brewery's 25th birthday.
Here's the Elector Story
Elector's conceptual roots extend to the beginnings of NABC's original garage brewery off Grant Line Road — now the Research & Development Brewery.
Elector was the third recipe brewed by NABC's founding brewer, Michael Borchers, and his assistant, Joey Burns, and was made for the very first time on Election Day, 2002.
Brew day happened to be the mid-term congressional election following the disputed presidential race of 2000, in which Al Gore won the popular vote nationwide, but lost the White House owing to Florida's uncounted hanging chads and the state's subsequent votes for Bush in the Electoral College.
Needless to say, as subversive leftists (and craft brewers), this political outcome was still somewhat fresh in our minds in 2002 as Michael concocted an initially modest plan to follow Community Dark and Beak's Best with a traditional English-style seasonal winter warmer. Brew day was uneventful, but as the fermentation proceeded and time rolled past, it became obvious that the new batch of winter warmer was going to have a deeper burgundy color than planned, and also was considerably hoppier than the intended style should ever be.
Well, there's nothing wrong with that, as it turned out. The resulting hybrid was delicious, full-bodied and aggressively hopped, and we concluded that while the intent had been tamer winter warmer, the result was something else – Imperial Red, in our reckoning – and we went with the results. These days, I prefer to call it Elector-Style Ale, such is the beer's uniqueness. It is a one-off, and stylistically, there is no classification except fine flavor.
Before the finished flavor of our newly hybridized ale had become apparent, we'd already started the process of hybridizing its name, something that arose out of drunken mischief (imagine that) when after much discussion, Joey suggested Elector in reference to the Electoral College and the way it made the popular vote pointless, and by extension, democracy itself somewhat redundant.
I replied that the "-tor" suffix would suggest Doppelbock in the minds of knowledgeable drinkers, and of course we had no intention of producing a beer remotely close to Doppelbock.
Joey: "Right."
Roger: "Right."
Good, then we're agreed … Elector it would be.
Now it's eleven years later, and I feel just as strongly as I did then: An Elector in hand is well worth two Bushes in retirement, any election day, and in fact, any time of the year. Elector's back story would be sufficient to render it an iconic brand, and Tony Beard's graphics add to the mystique — but of course, it's the liquid in the glass that really matters.