Roger recommends Beak's Best and oysters at Kingfish in Jeffersonville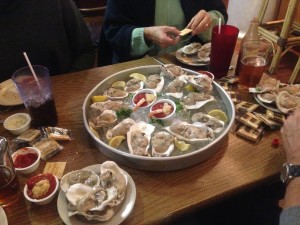 Forget whether or not they're listed on the menu. The Kingfish in Jeffersonville usually has oysters on the half shell, and priced at $12.99 a dozen, it's really one of the better deals around. Four of us tore through two dozen (they were fat and fresh), and then topped it off with scrod sandwiches and fish tacos. Better yet, Beak's Best is on tap … the view of downtown Louisville is fine, and there's always Buckhead or Rocky's for a beer after dinner.
You've seen the before; now the after.