Richard's going to work for New Holland, and NABC wishes him the best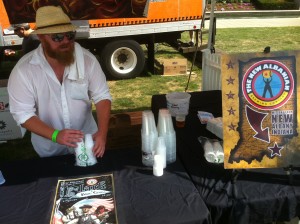 The Carnival Barker now yields the stage while NABC's brewery representative, Richard Atnip, does the writing and tells you about his impending move to Chicago to work in a similar capacity for one of my favorite breweries, New Holland (Holland, Michigan). As when Jared Williamson left to brew for Schlafly in 2011, words really do elude me when it comes to thanking Richard and wishing him all the best at New Holland.
— Roger
—
My Fellow New Albanians,
I wanted to take a brief moment to thank each of you for making NABC the extraordinary company that it is. Because of the hard work and dedication each of you puts forth on a daily basis, NABC continues to grow and flourish in every aspect of what is to say the least, a complex organism.
Working for the New Albanian Brewing Company is less of a job as it is an active participation in the evolutionary development of a cultural identity. I've been so proud to have been a part of that evolution over the years. To have met and worked with so many others who share the same meaningful sense of accomplishment, and solidarity in achieving it, is something I've never experienced anywhere else.
It is exactly that sense of community that gives me the greatest of confidence in the company's continued successes. And although it saddens me in some ways that I won't be standing with you enjoying those successes, I leave with the utmost respect and love for the institution as a whole, and each individual it is comprised of.
I have taken a job with New Holland Brewing Company. The position is based in Chicago, and as a result I will be relocating. It is an exciting opportunity for me, however difficult the decision may have been to leave.
I'd like to pay a special thanks to a few people.
David Pierce, for teaching me so much about beer, brewing and distribution, and for developing and maintaining a portfolio of the highest quality that truly was a pleasure to represent.
Josh Hill, whose title as "Brewery Badass" merely scratches the surface of how truly badass he is–a real MVP.
Jeremy Kennedy, for his hard work lugging kegs all over hell's halfacre, saving me a great deal of back pain.
Tony Beard, for his ability to pluck from the ether New Albanian's off-centered concepts and render them into such unique visual representations.
Ben Minton, for his brilliant work at the R & D brewery.
And obviously our Great Leaders, Kate, Roger and Amy. It has been an honor working for you. And the risks you took and sacrifices you've made to make it possible for me and everyone else to have a home here does not go unnoticed. I look forward to the day I can visit you on your beach front property when the winter in Chicago gets too much for me.
I also look forward to seeing everyone in the weeks to come before I leave.
Carry on,
Richard