Billie Gray
Day Shift Manager – NABC Pizzeria and Public House
Employed since 2008
Billie makes sure the pizzas keep baking, as well as 1,001 other things that need to get done on a daily basis.
Eric Gray
Beer Manager – NABC Pizzeria and Public House
Employed since 2007
Eric started working at NABC in 2007. He was hired to fill a dishwashing spot for Gravity Head. After 3+ years working in other people's filth, he took over the beer manager job along with Ben Minton in 2010.
Early in 2011 NABC started bottling, and while Eric wasn't there for the archaic three-headed monster beginnings, he started helping out once the Meheen Merlin filler came on line.  Ben moved up to the position of R & D Brewer, which meant more work for Eric on the beer manager end, in addition to duties as cellarman. In his own words:
"All in all, what I really do for NABC is just fill in when needed. That can mean running a bottling line, cleaning a mash tun, and putting some beer on tap all in the same day. Trust me on this, though: Working in a brewery, or for a brewery, is probably the best job one could hope for. I'm at the Pizzeria & Public House practically every day, so don't be shy — I'm always looking for a good excuse to raise a pint or two."
Jeff Lewison
Pub Manager, Lead Server, and Husband of Kate – NABC Pizzeria and Public House
Employed since 1997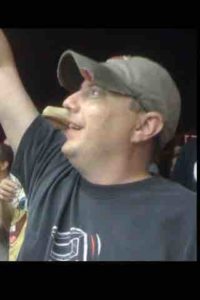 Jeff makes sure the food and drink make it to you.
Stacie Bale
Operations Manager – NABC Cafe & Brewhouse
Employed since 2015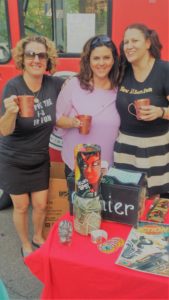 Bicentennial Park July 2017
(Left to right – Kate, Stacie, Amy)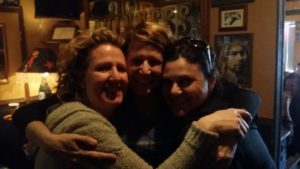 Gravity Head February 2015
(Left to right – Kate, Amy, Stacie)