Oskar Blues at the Public House and Pizzeria on Tuesday, August 5, at 6 pm.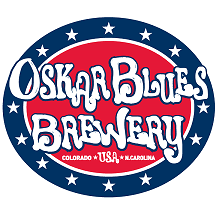 Dave and Wes from Oskar Blues will be joining Eric Gray and crew at the Public House and Pizzeria on Tuesday, August 5, with an impressive collection of beers. The lineup is below, followed by descriptions of some of the rarer selections. The takeover starts at 6 pm.
Dales Pale Ale
Mama's Yella Pils
Old Chub (nitro)
G'Knight
Gubna
White Buffalo
Tickled Pink
BA Old Double Bagger Barleywine
The Deuce
Info on a few of the one-off brews:
The Deuce 
The Deuce is the second CANlaboration between OB and Sun King Brewing Co. from Indianapolis. A hopped up American Brown Ale, The Deuce was made with Colorado grown and malted barley from Colorado Malting Co. as well as popcorn from Indiana. Hopping with 100% Galaxy hops from Australia give a strong flavor of citrus and passion fruit that complements the dark malts very well. 7% ABV / 69 IBUs
Tickled Pink 
This Saison was made with barley, wheat, rye, and oats. Ten pounds per barrel of whole raspberries were added near the end of fermentation to complement the fruity aromas derived from the blend of Belgian yeasts. Lightly hopped with Saaz hops for a bit of spiciness. 6.6% / 25 IBUs
The White Buffalo
Brewed with The White Buffalo himself, Jake Smith to commemorate the release of his 2013 album, "Shadows, Greys and Evil Ways." A fan of West Coast-Style IPAs, Smith wanted to make something lighter in body, but heavy on hop aroma and flavor, and The White Buffalo West Coast IPA is definitely that kind of brew. West coast style white IPA featuring centennial, simcoe and galaxy hops. 5.9% ABV
Barrel Aged Old Double Bagger Barleywine
American-style Barleywine.  Still a youngster at this point (3 months).  Old Double Bagger (ODB for short) has a long life ahead of it.  At 13.2% ABV and 100 IBUs this ale will age for years and develop over time.  Look for a straight forward spicy citrus character from the exclusive use of Columbus hops and the considerable alcohol with a subdued malt background.  This is a work in progress and we look forwards to seeing how it ages.