Once again, NABC is on tap for Dubois County Bombers home games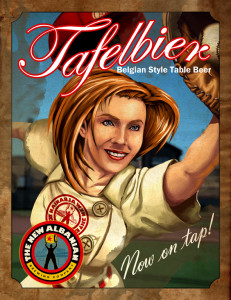 (We were unable to resolve a logistical challenge and have these beers on tap for the Bombers home opener, but they should be pouring on Wed., June 5)
—
"There is only one game at the heart of America and that is baseball, and only one beverage to be found sloshing at the depths of our national soul and that is beer … beer needs baseball, and baseball needs beer – it has always been thus."
— Peter Richmond, author and journalist
Growing up in Southern Indiana, one quickly comes to associate two of life's most important pastimes with Dubois County: Baseball and beer.
Indiana's Baseball Hall of Fame is in Jasper, and major leaguer Scott Rolen (recently of the Cincinnati Reds) starred at Jasper High School. Amazingly, at least four former major league players from olden times were born in the small town of Huntingburg: Bob Coleman, Ray Blemker, Alex Graman and Mitch Stetter.
As for beer, need we do more to document Dubois County's fermentable predilections than note its heavily German heritage? Jasper is home to the regionally famous Schnitzelbank Restaurant, since 1961 a popular destination for its German cuisine and solid beer list. Earlier this year, Basket Case Brewing became Jasper's first nanobrewery, bringing beer and brewing traditions back to their local, independent roots.
Consequently, for a third year, the New Albanian Brewing Company is excited to be partnering with the Dubois County Bombers to bring craft beer to League Stadium in Huntingburg for Bombers home games this summer.
The Dubois County Bombers play in the Ohio Valley League, a collegiate summer baseball league. Players with remaining NCAA eligibility compete with wooden bats, and live with host families during the season.
Huntingburg's League Stadium is a retro jewel, reconstructed from an existing grandstand to serve as the 1940's-era home for the Rockford Peaches during location shooting of the film, "League of Their Own" (1992), starring Geena Davis, Madonna and Tom Hanks.
Again in 2013, NABC is delighted to bring fresh, local craft beer to Dubois County for Bombers games. I can't say enough for Bombers management, because they certainly do "get it." Unlike other baseball clubs nearby, which have been slow to grasp the evolution of consumer beer preference, Bombers management sees the natural alliance of local baseball and local beer as one perfectly placed to give fans more of what they want when attending games.
NABC's beers will be available on draft from the beer trailer parked down the third base line. There is a roofed picnic area just in front of the taps, and the main concessions area, the NABC Craft Beer Bullpen, is adjacent. Perennial NABC favorites Beak's Best and Tafel will be on tap in 2013.
Links