Oct. 19: Kentucky Kicks Ass BrewFest to benefit Kentuckians for the Commonwealth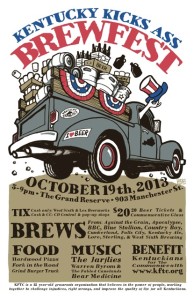 I find it highly annoying that NABC cannot participate in this event. It's isn't because we lack the desire, but the fact is that currently, we have no wholesale distribution in greater Kentucky. Consequently, our official presence is precluded — at least this year. Maybe in 2014.
NABC always has a great time with Kentuckians for the Commonwealth and its Louisville Loves Mountains festival each May. I thinking seriously about road-tripping to Lexington for this one.
—
Join Kentucky For Kentucky as we partner with Kentuckians For The Commonwealth (KFTC) to host the Ky Kicks Ass BrewFest.
Tickets are $20 and are available for cash only sales at West Sixth Brewing and Lexington Beerworks! Credit Card sale will be available at CD Central and pop-up shops around town.
Receive a special release sample glass and 20 beer tickets.
FULL BAR by Grand Reserve for Non-beer drinkers.
Craft Beer in Kentucky is growing at an amazing speed. Come down and sample from 11 of Kentucky's breweries.
We'll have 3-5 varieties from each brewery and a few special releases.
Featuring: Against the Grain, Apocalypse, BBC, Blue Stallion, Country Boys, Cumberland, Fall City, Kentucky Ale, Lore, Sterling, and West Sixth.
Food By: Hardwood Pizza, Fork in the Road, and Grind Burger.
Music By: The Jarflies, Warren Byrom & the Fabled Canelands, and Bear Medicine!
Benefiting: Kentuckians For The Commonwealth, 32-year-old grassroots, citizens' organization that believes in the power of people, working together, to challenge injustices, right wrongs, and improve the quality of life for all Kentuckians. Visit KFTC online at www.kftc.org.
Make sure to "Kick Ass" responsibly…if not, we have the right to deny Ky Craft beer to anyone being an idiot and tarnishing Ky's great name, regardless of how many drink tickets you have left!