NABC's beer list for the 18th Annual Indiana Microbrewers Festival on July 20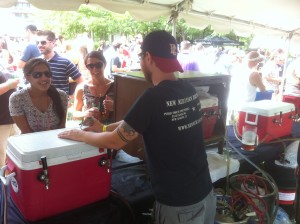 The Brewers of Indiana Guild's premiere annual gathering almost is upon us.
18TH ANNUAL INDIANA MICROBREWERS FESTIVAL
The Microbrewers Festival makes its 18th showing on July 20 in Broad Ripple. Your favorite Indiana breweries will be joined by a select group of guest breweries from around the country at Indiana's largest craft beer event. Over 300 beer selections to choose from!
NABC plans to bring the following beers to the show.
—
NABC Beer Descriptions, for the 18th Annual Indiana Microbrewers Festival
At the NABC main station, C02 pour:
Ancient Rage
Black & Blue Grass
Eastern Front
Mt. Lee
Naughty Girl
Pickman's
WeeFoot
Cask-conditioned NABC (firkin at the real ale tent):
Houndmouth (Dry Hopped)
NABC BEER DESCRIPTIONS
At the NABC main station, C02 pour:
Ancient Rage
ABV: 7.5%
OG: 17 degrees Plato
IBU: 130
India Pale Ale (Bourbon barrel-aged)
There is such a thing as rage, both justified and ancient, not to mention at times half blind, and reminding us that just south of New Albany in the wilds of the Commonwealth are hundreds of thousands of gently used bourbon barrels. We at NABC decided to build an IPA expressly meant for rest and repose in some of them, because they really needed liberating.
—
Black & Blue Grass
ABV: 6.5%
OG: 15 degrees Plato
IBU: 18
Spiced Belgian Ale
The late, great Bill Monroe described his bluegrass music as "Scottish bagpipes and ole-time fiddlin'. It's Methodist and Holiness and Baptist. It's blues and jazz, and it has a high lonesome sound." Our Black & Blue Grass begs to concur. Wallonian yeast and stateside spicing: Black pepper, blue agave and lemongrass. It's a great bet alongside any food you have around, or just by itself.
—
Eastern Front
ABV: 9%
OG: 18.5 degrees Plato
IBU: 80
Russian Imperial Pilsner
Throughout history, the Eastern Front is where German and Slavic lands overlap, both geographically and culturally, and occasionally in olden times, even militarily. Hence NABC's assertive, hoppy Eastern Front and its stylistic positioning. Pair Eastern Front's German hoppiness with Russian zakuski: Funky cheeses, caviar, rye bread, smoked meats and pickled vegetables.
—
Hoptimus
ABV: 10.7%
OG: 22.6 degrees Plato
IBU: 100
Imperial India Pale Ale
Sterner stuff? That's when you grasp that living vicariously through others is a sad compromise meant only for rank amateurs and subpar international lagers. Rather, we all might profit from the principled example of Hoptimus, which lives vivaciously, audaciously and capriciously through itself. With a snarky hop character that is blatantly unrepentant, Hoptimus ensures that meek palates surely will inherit neither New Albany nor the planet earth.
—
Mt. Lee
ABV: 6.4%
OG: 16 degrees Plato
IBU: 65
California Common
In life, one observes that everything loose eventually lands in LA, including California Common, the beer commonly thought to hail from the Gold Rush days in 'Frisco. But NABC has relocated its uncommon Common to the City of Angels – specifically, to Mt. Lee, site of the famous Hollywood alphabet. Don't ask why; only New Albany's own hometown Prince Charming, television's Josh Dallas, knows for sure, and we wouldn't want him to trouble Snow White for details.
—
Naughty Girl
ABV: 6%
OG: 14.4 degrees Plato
IBU: 69
India Blonde Ale
She's naturally naughty by nurture; savoring the Belgo-American ménage a trois; gaming the tryst; but then we awakened to the arrival of strange brewers and the transformation of a trans-oceanic affair into a hell-bent beer-love pentangle. The collaborative minds at Louisville Beer Store, De Struise Brouwers and New Albanian Brewing Company fashioned a willfully disobedient India Blonde Ale with a hop on her shoulder.
—
Pickman's
ABV: 6.5%
IBU: 53
American Pale Ale
Devotees of Lovecraft, including NABC's R & D brewer Ben, know quite well the story of Pickman's Model. Some might recall Rod Serling's adaptation of the story for his 1970s television show "Night Gallery." At NABC, we know Pickman's as a never macabre, always tasty Pale Ale. It's exactly as it is, and a dependable model.
—
WeeFoot
ABV: 5%
IBU: 48
American Stout
NABC's Footed Stout series places Stout's dark wonderment in the service of a prominent anatomical feature of verbebrates – namely, their feet. From Quaker (oats) to Cloven (Belgique), and from Thunder (massive) to WeeFoot, which does not wear Size 16s; rather, it veers pleasingly toward session strength, fuller of body than Irish, with a roasty finish.
Cask-conditioned NABC (firkin at the real ale tent):
Houndmouth
ABV: 4.5%
OG: 11 degrees Plato
IBU: 28
American Wheat Ale
There'll be no tickets for the "gypsy train to Houston" without the explicit written consent of the New Albany band called Houndmouth, whose first album recently was released. It's called "From the Hills Below the City," and NABC recommends pairing it with the group's namesake Houndmouth Ale.