NABC's 2nd annual Session Head begins Saturday, April 6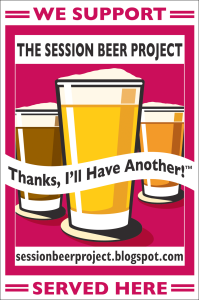 (updated on April 2 with addition of Flat12)
We're going from Gravity Head to Session Head in just six weeks and a 3.5% reduction (or greater) in ABV. For the second "small" year, NABC is delighted to help raise extreme session beer consciousness with Session Head at the Pizzeria & Public House (beginning on Saturday, April 6, until they're gone) and Bank Street Brewhouse (NABC session beers only) on Sunday, April 7 – the actual Session Beer Day.
For NABC's sophomore Session Head, we'll be taking a minimalist approach – with all requisite puns intended. As in 2012, the idea is to nurture a tradition of ceremonially winding down our annual Gravity Head bacchanalia with session strength beers – a year-round idea whose time has come.
A leading exponent of session consciousness is beer writer Lew Bryson, who coincidentally was in town for 2012's inaugural Session Head; Lew and Roger enjoyed pints of NABC Community Dark at Bank Street Brewhouse. Session beer and philosphy were dispensed, and we look forward to Lew's return in the future.
Before taking a look at the list, here are Lew's thoughts on the guiding principles of session beer.
—
Lew Bryson's "The Session Beer Project" exists for one reason: to promote the brewing, provision, and enjoyment of session beers. They are:
under 4.5% alcohol by volume

flavorful enough to be interesting

balanced enough for multiple pints

conducive to conversation

reasonably priced
In brief, low-alcohol, but not low-taste. It's deliberately vague. The great thing about session beers, especially the ones that come in under 3.5%, is that you can enjoy several beers, and still have a BAC of under 0.04. If you really like drinking beer, session is the way to go!
SBP was started in January of 2007 by beer writer Lew Bryson for two reasons. First, to spread the word about session beers so more people could enjoy them. Second, to better Lew's chances of finding good session beers to drink.
—
Here are the beers being featured at NABC's Session Head 2013. Kindly note that the full list will be available ONLY at our Pizzeria & Public House location. Meanwhile, as many of the NABC house session beers as possible will be tapped at Bank Street Brewhouse on Session Beer Day (Sunday, April 7).
NEW ALBANIAN BREWING COMPANY
NABC Community Dark … English Mild, 3.7% abv
NABC Get Off My Lawn … Session IPA, 4.2% abv
NABC Gold … Blonde Ale, 4.2% abv
NABC Grätzilla … Grätzer/Grodziskie, 3.3% abv
NABC Houndmouth …. Hoppy American Wheat, 4.5% abv
NABC Tafel … Belgian Table/Session Ale, 4% abv
GUESTS
Against the Grain Ludicrously Terse … English Bitter, 4.5% abv
Apocalypse Brew Works Hop Project: Simcoe … American Pale Ale, circa 4.5% abv
Country Boy Nacho Bait … Jalapeňo Blonde, 4.5% abv
Flat12 12 Penny Scottish Ale … Scottish Export Ale, 3.4% abv
Founders All Day IPA … Session IPA, 4.7% abv*
Stone Levitation Ale … Amber Ale, 4.4% abv
* a nudge high, but we'll live with it