NABC tap takeover at Lino's Coffee in Indianapolis on Friday, January 17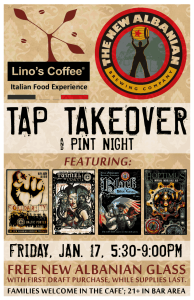 NABC does its share of events and promotions in Indianapolis, but in recent memory, none have been held in Speedway. This will change on Friday, January 17, when Blake and Roger preside over an NABC tap takeover at Lino's Coffee in Speedway.
First, some history.
The civic enclave of Speedway is the home of the Indianapolis Motor Speedway, famed as the site of the Indianapolis 500 race. By design and intent, community and racetrack are inexorably intertwined, and the automotive environs extend to the premises of Lino's Coffee, which are located inside the Dallara IndyCar Factory. The connection? Dallara is a renowned Italian maker of racing cars, and Lino's is equally famed as a coffee roaster and retailer. Both call the Italian city of Parma home, and all of it comes together on the west side of Indianapolis.
NABC beers being tapped are as follows:
Black & Blue Grass
Tunnel Vision
Hoptimus
Solidarity
The event includes a free NABC logo glass with purchase (while they last), and runs from 5:30 p.m. through 9.