NABC is seeking a full-time brewery representative.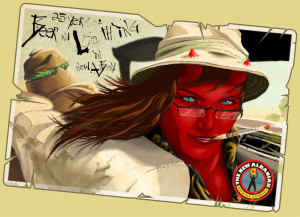 (Application deadline is Monday, April 22)
So you say you'd like to get into the craft beer business?
Here's your chance to grow with the New Albanian Brewing Company, maker of craft beers of proven merit, because we have an immediate opening for a full-time Brewery Representative with duties in the Louisville KY metropolitan statistical area.
The Brewery Representative's primary role is to solicit, build, and maintain professional sales relationships with NABC's wholesalers and on-/off-premise customers within the Louisville metro area.
His or her secondary role is to perform these tasks in Indiana and Kentucky outside of the Louisville metro area, subject to case-by-case need as our presence in these markets grows.
To perform this job successfully, you must be able to perform each essential duty satisfactorily. The requirements listed below are representative of the knowledge, skill, and/or ability required.
Work directly with NABC's wholesale distributors and their sales staffs to promote sales of NABC's beers.

Make sales calls on potential draft & bottle accounts.

Make sales calls at existing draft & bottle accounts with the goal of gaining second or third taps, and more bottle placements.

Make account visitations at existing accounts to build a closer relationship between the account and NABC.

Oversee special events in NABC's market area. This includes seeking participation in the appropriate special events, registration, logistical coordination between the distributor and the event staff and actual attendance and representation on behalf of the brewery.
More Specific Job Requirements:
Sales experience, preferably in beer, or in a like industry

Bachelor's degree or equivalent work experience

Must live or have prior experience in the market area

Must have wheels and be able to travel

Must be able to work flexible hours/days

Must have good record keeping and business communication skills

Must be adept at social media (Facebook, Twitter, Untappd, etc)

Must be familiar with the brewing industry and the beer distribution network

Proficiency with Microsoft Office Suite.

Familiarity with contemporary themes of new urbanism and independent small business advocacy.

Be able and willing to lift at least 31.5 lbs and move 165 lbs kegs.
—
NABC offers competitive compensation (salary + commission) and benefits package, a rewarding work environment, and opportunities for growth for aspiring beer sales professionals.
NABC is an equal opportunity employer and does not discriminate in employment on the basis of race, color, national origin, age, sex, sexual orientation, disability, veteran or marital status or other protected status covered by federal, state or local law.
To apply for this position, please attach your resumé/CV as .pdf or Word doc to an email with subject heading "NABC Brewery Representative" and send to roger(at)newalbanian(dot)com. We will be scheduling interviews soon.