NABC in Bloomington, April 11 & 12, for Craft Beer Week and the Craft Beer Fest
Here's the lowdown.
On Friday, April 11, we'll put an exclamation mark on Bloomington Craft Beer Week with these confirmed events; there may be an NABC happening at Yogi's, so stay tuned for updates.
7:00 p.m.: Nick's English Hut (tap takeover), NABC and Bloomington Brewing Company. NABC beers: Hoosier Daddy; Oaktimus; Feastmaster 80 Shilling (NABC/BBC collaboration). BBC beers: Ruby Bloom Amber; Quarrymen Pale Ale; Imperial Ruby Bloom; and Vanilla Floyd Belgian Dark Strong Ale.

7:00 p.m.: The Tap (tap takeover), with these NABC beers: Elector, Houndmouth, Oaktimus and the new Action Pale Ale.

7:00 p.m.: Atlas Bar, featuring NABC Oaktimus on draft.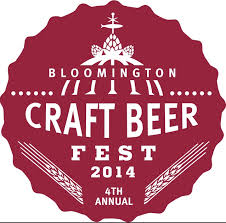 On Saturday, April 12, it's the 4th Annual Bloomington Craft Beer Festival, sponsored by the Brewers of Indiana Guild, and held at the Woolery Mill in Bloomington, Indiana. NABC beers scheduled for pouring: Black & Blue Grass, Hoosier Daddy, Houndmouth (pin), Solidarity, Tunnel Vision and the new Action Pale Ale (pin).
Hope to see you in Bloomington next weekend.