NABC beers featured at Taco Punk's 2nd anniversary dinner, Saturday, January 25.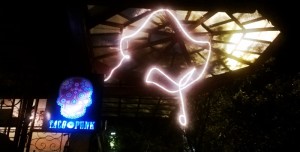 We're big fans of Taco Punk, and on Saturday night, Gabe's including Black & Blue Grass, Elector and Hoptimus as his restaurant celebrates its second anniversary. NABC's Blake Montgomery will be on hand for the festivities.
Saturday, January 25th 6-8 pm Anniversary Dinner

We're shutting the joint down and serving a special menu featuring Marksbury Farm and New Albanian:

Tacos lingua, carnitas in chili verde, and smoked turkey in mole negro
Lamb pasole
Short rib tamales
to name a few!

Beer tastings with New Albanian Brewing Company

Live music with Dozens of Dollars String Band

All you can eat, made by hand as always by the Taco Punk crew … $22 … call 584-TACO or email info@tacopunk.com to make your reservations, seating is limited.