Mellow Mushroom (St. Matthews) & Houndmouth & Headliners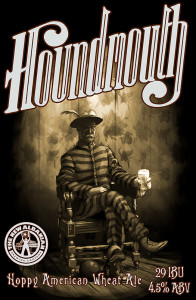 Insider Louisville's Steve Fowler interviews Matt Myers of the band Houndmouth, namesake of the Houndmouth hoppy wheat ale we've been brewing this year in collaboration with the group. It's been a breakthrough year for them, and we couldn't be any more proud, as Roger explains here.
The musical Houndmouth will end November with two big shows at Headliners in Louisville on the 29th and 30th, and NABC Houndmouth will be there, but in the run-up to the shows, you'll be able to score Houndmouth Ale for $3 a pint throughout November at the St. Matthews Mellow Mushroom location on Shelbyville Road.
On Friday, November 1, Mellow Mushroom's "Steal the Pint Night" features NABC Houndmouth, with NABC's Peter Fingerson and Blake Montgomery on hand to chat with beer lovers and enjoy a few pints.
But there's even more Houndmouth news from Mellow Mushroom:
"Purchase a New Albanian Brewing Company Houndmouth between today and November 20th (and) you'll receive a raffle ticket for a chance to meet the band, Houndmouth."
Just remember: Tell Houndmouth that Houndmouth sent you.