Meet the firkins: Cask Fest lineup for Friday, Sept. 13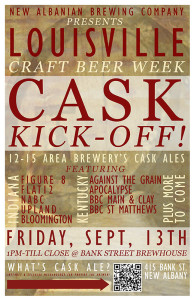 Tapping begins around 1:00 p.m. and will continue until closing. Cask Festival takes place in Lloyd's Landing, NABC's outdoor area in development, and to comply with Indiana ATC laws, the outdoor areas will be 21+ only (just on Friday).
Cask ales will be sold by 10-oz and 20-oz pours; there will be a sampler option. Note that Teddy Bear Kisses and Hoptimus will be sold only by sample size and 10-oz pour.
The participants:
Against the Grain Pale Pattern Boldness
Louisville KY
With Sorachi Ace hops; 5.7% ABV, 40 IBU
Apocalypse Brew Works English Mild
Louisville KY
Bloomington Brewing Company Ten Speed Hoppy Wheat
Bloomington IN
"We grilled a whole pineapple and then added it to the beer in the firkin. It is still resting inside the finished beer"; 5.4 ABV, 34 IBU
Bluegrass Brewing Company (Main & Clay) American Stout
Louisville KY
Infused with cayenne and chocolate
Bluegrass Brewing Company (St. Matthews) Rough Service IPA
Louisville KY
5.8% ABV, 79 IBU
Figure Eight Brewing Benny Hill British IPA
Valparaiso IN
With Northdown hops; 7.5% ABV
Flat12 Half Cycle IPA
Indianapolis IN
With wet local CTZ in the cask; 6% ABV, 104 IBU
Flat12 Hello My Name is Amber
Indianapolis IN
With experimental hop # 5256 dry hop; 5.3% ABV, 40 IBU
Flat12 Saison du Flát
Indianapolis IN
2013 Summer ReplicALE; dry hopped with Motuka hops and infused with fresh Lavender flowers from the Brewery garden; dry-hoped with Saaz
NABC Bat Out of Helles
New Albany IN
Kellarbier, 6% ABV, 25 IBU
NABC Hoptimus
New Albany IN
SnarkPA; dry-hopped with Cascade; 10.7% ABV, 100 IBU
NABC Houndmouth
New Albany IN
American hoppy wheat; 4.5% ABV, 28 IBU
Upland Nut Hugger
Bloomington IN
Brown Ale, infused with Hazelnut
6.2% ABV, 41 IBU
Upland Teddy Bear Kisses
Bloomington IN
Russian Imperial Stout infused with Hungarian Oak soaked in barrel-strength Willett Bourbon
10.2 % ABV, 80 IBU
—
More information about Real Ale is here
For more information on Louisville Craft Beer Week, visit Louisville Beer Dot Com