Meet Blake Montgomery and Peter Fingerson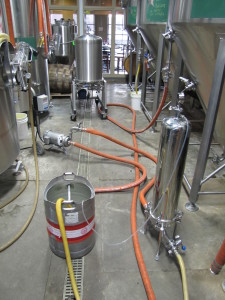 The New Albanian Brewing Company is pleased to welcome Blake Montgomery (brewery sales rep) and Peter Fingerson (brewer) to the team. Peter began working in the brewhouse in June, and Blake hits the sales trail starting on July 15. Blake and Peter were asked to submit biographies, and so here they are.
Blake Montgomery
Blake started his illustrious career in the mental health field, where he counseled kids and families and nut jobs for nearly 13 years. After a major meltdown with the FSSA and managed Medicaid funding hit his group homes, Blake left the political red tape machine behind and went into media sales, subsequently spending his time at Hoosier AM/FM Radio (Kokomo IN) as Digital Sales Manager, and also performing all other tasks related to radio.
When not working (and sometimes while working), Blake enjoys to raise a pint or two of craft beer. He even orchestrated a craft beer festival in Kokomo known as KokoPalooza which won best event in Howard County a few years back.
Blake is married to his soulmate, Kimberley who is from New Albany and an avid Porter and Stout girl. They have been together for over 13 years and have one son, Cole Aiden. Kimberley and Cole are stoked about the move to New Albany to be home with family.
Blake's hobbies include sports of all kinds, cigar smoking, and of course really good beer. His favorite teams are the Kansas Jayhawks; Pittsburgh Steelers, Pirates and Penguins; and the Boston Celtics.
Feel free to email him, friend him on Facebook or buy him a beer while at the Pub.
Peter Fingerson
After succumbing to the lusty temptations of homebrewing some years ago, Peter's appetite for the craft has been difficult to satiate. He has had no choice but to follow his palate wherever it takes him, and thankfully, it has landed him at NABC, where he has begun brewing professionally — especially useful for Peter given that homebrewing is not the most profitable hobby, monetarily speaking (though he does seem to have gotten a few more friends in the process).
Aside from beer, Peter loves his wife, his cats, books, film, and cookies. His least favorite beers are Shock Top and Blue Moon. His favorite Teenage Mutant Ninja Turtle is Michaelangelo. He likes to listen to metal. He doesn't like wearing shorts. Most people probably think he is lame, but he is okay with that. He is a lover of most things and a brewer at heart. That is all.