Kentucky Derby Festival BeerFest is Wed., May 1.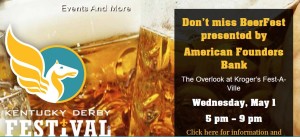 (Corrected at 9:10 a.m. to specify the location)
It's a brand new Kentucky Derby Festival event, and we know very little about it, except that it may have the longest name of any KDF production ever.
BeerFest presented by American Founders Bank, at The Overlook at Kroger's Fest-A-Ville, Wednesday, May 1, 5 PM – 9 PM
The "Overlook at Kroger's Fest-A-Ville" is located by the river in Waterfront Park. Note also that Wednesday is the day for the Great Steamboat Race.
As a handy riposte to the fest sponsorship of Blue Moon, NABC will have Black & Blue Grass and Naughty Girl on hand for sampling.