Houndmouth, alternative label and video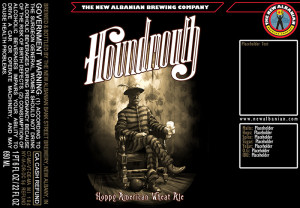 You've already seen the Houndmouth beer specs.
Now NABC's graphics department (Tony Beard) is developing a second label design that perhaps better represent the band's vibe. Currently Houndmouth is on the road down South, and you can keep up with the group via Facebook.
Even NABC isn't sure where the evolution of Houndmouth as a beer goes from here, so we're just taking it one step at a time and having fun with it as we go along. It's not something we intended to do this year, but serendipity's like that, and there are times when adjustments must be made on the fly. There'll be more Houndmouth beer in time for the Iroquois Amphitheater show in April, giving all of us a bit of time to think about it.
Meanwhile, see the video at fuse:
Meet SXSW Secret Superstars Houndmouth

After a stand-out set at last year's South by Southwest, folk rock band Houndmouth went from unsigned and obscure, to sharing a label with Alabama Shakes and touring with The Lumineers. Fuse News caught up with the band this week at SXSW