Houndmouth 22oz Bombers go on sale Sunday, May 25 at BSB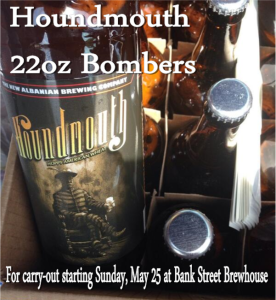 Freshly bottled Houndmouth bombers go on sale this Sunday, May 25, at Bank Street Brewhouse (Noon – ?? during the Boomtown Ball fest downtown). It's our first Session Series bomber release, soon to be joined by Beak's Best Bitter, Community Dark and Tafelbier. Houndmouth bombers will be available at the Pizzeria & Public House beginning Tuesday, May 27.
On Sunday, we'll be serving beers on-premise and to go — always remember that Indiana breweries and wineries offer carry-out sales on Sunday. Many local businesses will have Sunday hours for Boomtown, so come down and wander.
(photo credit Alliee Bliss)