Harvest Homecoming Parade, Fringe Fest and October beer release dates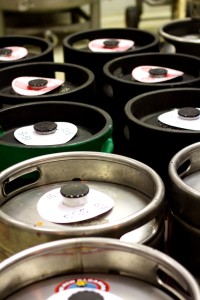 Here's a calendar check for early October merriment in downtown New Albany.
Harvest Homecoming is New Albany's annual fall festival, and the parade that kicks it off is on Saturday, October 5. The parade route ends following a right-hand turn at Bank Street Brewhouse, which is the logical place to view the show in the company of NABC's beers of proven merit. The parade begins in midtown at noon, and will begin passing BSB approximately 40 minutes later. It ends when it ends.
For the occasion of the October 5 parade, NABC is releasing Strassenbrau, our Bavarian-style Marzen/Oktoberfest. It will be pouring at BSB as well as the original Pizzeria & Public House location. Also on the 5th, we'll launch a final hurrah for Tricentennial Ale. As of today, roughly 100 hand-numbered of the limited edition of 300 bottles remain in stock for purchase (both NABC locations) and draft is down to a handful of kegs — which will be tapped at both locations on parade day.
Harvest Homecoming's (in)famous booth days begin on Thursday, October 10, and so does NABC's annual Fringe Fest. A slate of activities for Fringe Fest 2013 is forthcoming; in the meantime, we know that both Hoosier Daddy and Wet Knobs Harvest Hop Ale will make their debut during Fringe Fest. This year, Wet Knobs is to be brewed with Floyds Knobs-grown hops from Brandon Freiberger. We'll brew as much as we can, and drink it quickly — if the past is any indication.
Kegs and bottles of Hoosier Daddy will be available to outside accounts beginning the week of Fringe Fest, and will continue through March 2014.
We're looking forward to much merriment in the coming weeks, and we thank our patrons for making it possible.