Hard Core Gore Day is Thursday, March 21.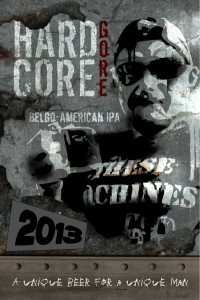 Each year, NABC celebrates the life of the late Jason Gore — our colleague, friend and co-conspirator — with an ale we've named in his honor: Hard Core Gore.  It's unique beer for a unique man, who would have been 30 on March 21, 2013.
Ben Minton, NABC's R & D Brewer, says that this year's batch of Hard Core Gore is a bit stronger than in previous years. It remains a Belgo-American IPA. On Thursday at the Pizzeria & Public House, Ben will have the two previous versions on tap alongside the newest one.
2011: 9.5% ABV 120 IBUs
2012: 8.1% ABV 156 IBUs
2013: 11% ABV 135 IBUs
2012: Hard Core Gore to be released March 21.
2011: Hard Core Gore: New NABC release honors the memory of the late Jason Gore.