Crashers, fireworks and NABC — Wed., July 3.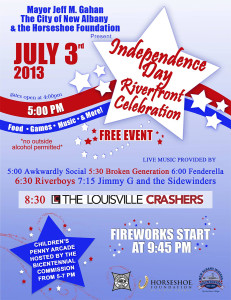 In New Albany, we celebrate the 4th on the 3rd, with fireworks and musical performances at the Riverfront Amphitheater downtown at the foot of Pearl Street. For the second year in a row, the Crashers will be playing.
It's a family friendly event, and there'll be a beer concession. These are not mutually exclusive concepts. Mass market beer will be available, and NABC will have the following on tap for those wishing to purchase genuine American beer:
Gates open at 5 p.m., and last call will be just before the show ends, or whenever we feel like stopping.