C'mon, Stop Clowning Around: The (Censored) Ale Story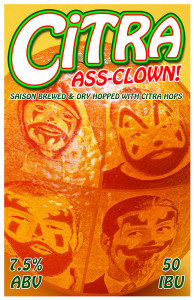 By David R. Pierce, Director of Brewing Operations, New Albanian Brewing Company
It all started with a bottle of 8 Wired Saison Sauvin being shared by NABC Brewers Josh Hill and Peter Fingerson, and 4 o'clock beer talk: Have we ever brewed a hoppy Saison?
A few days later the beer was Brooklyn Sorachi Ace Saison. Texts flew back and forth regarding the hop selection — maybe we can get some of those hops from New Zealand or Australia that the cool brewers use, or some of those sold-out-until-2016 American dream hops?
And so our first true NABC Brewers collaboration in several years was born. A formula was fleshed out to be brewed at our R & D Brewery. It was fine-tuned after many discussions among our young brewing staff over the course of many brew days.
The search for ingredients moved forward with an assist from our good friends to the North, FLAT12 Bierwerks. They had a few pounds of Citra available for sale, and offered to deliver on their way to Nashville for an event. Yeast was selected, ordered, and shipped. We brewed 8 barrels of a very special saison.
Now, what to name our creation?
We kicked around several great names, but Google proved them to be taken. Our eureka moment came during a lively discussion of the movie Office Space. The details are fuzzy, but this we know: As David Pierce celebrates Michael Bolton's whole catalog, Ben Minton expresses no toleration for "that no-talent ass-clown."
Add Citra hops, and there you have it: Citra Ass Clown. We hope you enjoy drinking it as much as we did creating it. This probably will be the only time you get any Citra Ass Clown, since all the cool brewers have sucked up each and every Citra hop pellet. So, get some.
NABC Citra Ass Clown
Malt: Weyermann BoHo Pils, Gambrinus Honey Malt, and White wheat
Special ingredient: Honey Tree honey from Hosey Honey
Hops: Citra in the kettle and dry hops
Yeast: BSI-565 Saison
OG: 18 degree Plato
IBU: 50
ABV: 7.5%
Special treatment: Fermented hot, dry-hopped cold for four weeks
—
Postscript by Roger: I wouldn't know an insane clown posse if it passed me on the street, but I'm familiar with coulrophobia, and this ale is the antidote. The whole NABC brew team contributed to this project, and their creative passion makes us all very proud. It was fun, and at the end of the day, if you can't have fun brewing and drinking beer – what's the point?