Chef Matt Weirich preps for Bacon Ball at the Farm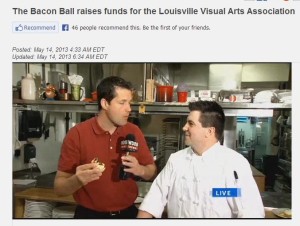 NABC Bank Street Brewhouse's Chef Matt Weirich is joined by WDRB's ever-entertaining Keith Kaiser to promote the 2013 Bacon Ball at the Farm (May 18). After following the link, it's the second (7:00 a.m.) video; be prepared to endure a Subway commercial in order to proceed to the better stuff.
The Bacon Ball raises funds for the Louisville Visual Arts Association

Bacon Ball at the Farm 2013, one of Louisville most sociable, delectable and entertaining events happens Saturday, May 18, from 7:00-11:00 p.m. at historic Oxmoor Farms.

In its third year, Bacon Ball expects to attract their largest crowd ever (over 1,200 attended last year).

Eight local restaurants have signed on to complete in the Bacon King competition, including Decca, NABC Bank Street Brewhouse, Proof on Main, Hammerheads, Silver Dollar, Eidertown, and Seafood Connection.