LOCATED AT 415 BANK STREET IN DOWNTOWN NEW ALBANY
NABC Cafe & Brewhouse serves NABC beers on tap, as well as growlers and 4 packs of Hoptimus to go.  We also offer guest taps of ciders, meads and occasional guest bourbon barrel selections.  The location also has a full service espresso bar, as well as cocktails and wine selections.  
NABC Cafe & Brewhouse serves lunch and dinner providing an all inclusive menu including locally sourced beef, bacon and chicken, as well as vegetarian and plant-based options, and gluten-free selections. 
HOURS OF OPERATION:
OPEN 7 DAYS A WEEK!
MONDAY-SUNDAY 11AM-10PM  
Last call for food at 9:30pm! 
Please note we are closed on holidays + Derby Day (holidays include Memorial Day, July 4th, Labor Day, Thanksgiving, Christmas and New Years Day).
WEEKLY DRINK SPECIALS:
Monday: $0.75 off Imperial Pints all day; $4 L.I.T's
Tuesday:  $3 Imperial Pints of Community Dark + $4 Four Roses
Wednesday:  $2 Off Growler Fills; $4 Pop-up Cocktail
Thursday:  $3 Pop-up Special on Imperial Pints of Selected NABC Beer + $5 Margaritas
Friday:  TGIL – THANK GOD IT'S LOCAL:  Get any NABC beer (8.0% or lower) with a sidecar of a local shot (Copper & Kings, Four Roses, Evan Wms, 12.05) for $5!
       FERMENTATION FRIDAYS!
       Enjoy a special brewer's beer every Friday starting at 3pm:
       Friday July 7 is Randall Infused Cucumber Snake Pilsner. Pair it up with a housemade Benedictine Bacon Sandwich and Housemade Cucumber Salsa with tortilla chips. Also available Cucumber Rosemary Margaritas and Vodka Lemonades!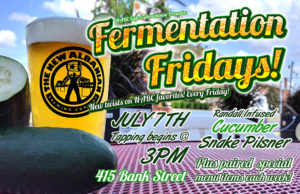 Sunday Bloody Sunday:  $4 Bloody Mary's, Bloody Maria's, and Bloody Beers!
updated SUMMMER 2017
FOLLOW US ON FACEBOOK, TWITTER & INSTAGRAM:
www.facebook.com/nabccafeandbrewhouse
twitter.com/nabccafeandbrew
instagram.com/nabccafeandbrewhouse