Big Four Burgers joins forces with NABC for Friday evening food at Bank Street Brewhouse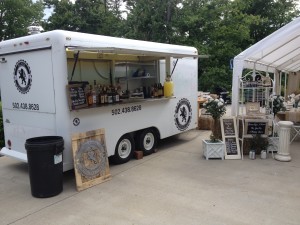 NABC is seeking creative ways to connect our Bank Street Brewhouse taproom space, both indoor and outdoor, with the community.
While we're no longer serving food at Bank Street Brewhouse, customers are heartily encouraged to bring their own carry-out meals from New Albany's many fine eateries (Dragon King's Daughter is a mere 50 yards away), picnic baskets (we can't wait until Seeds and Greens is open, and farmers market days are Saturday and Wednesday), or order for delivery.
In short, you can enjoy many different foods with NABC's beers of proven merit, then take a growler or bomber home.*
This summer on Fridays, we'll take it a step further by partnering with Big Four Burgers. That's because the city of New Albany's Bicentennial Park concert series begins on Friday, May 30, and will take place on Fridays through August 22 (except July 4) from 6:00 p.m. to 9:00 p.m.
The concerts happen at the corner of Pearl and Spring Streets in downtown New Albany, a block from NABC's Bank Street Brewhouse taproom, and we propose a perfect combination of music, food and beer.
Beginning on Friday, May 30, Big Four Burgers will have its new mobile burger trailer parked outside Bank Street Brewhouse on the very same Fridays as the concert series. Burger hours will be from 5:00 p.m. to 10:00 p.m., allowing music lovers to have a Big Four burger and NABC progressive pint before or after the musical performances just down the street.
Or, you can pick up Big Four Burgers at Bank Street Brewhouse and take them to Bicentennial Park, where NABC will be pouring Houndmouth, Black & Blue Grass, Naughty Girl and Community Dark throughout the summer.
Here is the Big Four Burgers trailer menu:
Big Four Burger
Cheeseburger
Bacon Burger
Fries
Cheese Fries
Pretzel Sticks and Beer Cheese
The Big Four Burgers trailer also may also be at Bank Street Brewhouse for Saturdays, either regularly or for special weekend events. We'll see how the first few Fridays work out, then decide.
NABC … www.newalbanian.com
Big Four Burgers … www.bigfourjeff.com
Bicentennial Park concert series … http://newalbanian.com/local-nabc-beer-diverse-live-music-headline-new-albanys-summer-concert-series/
* Indiana state law prohibits BYOB alcoholic beverages