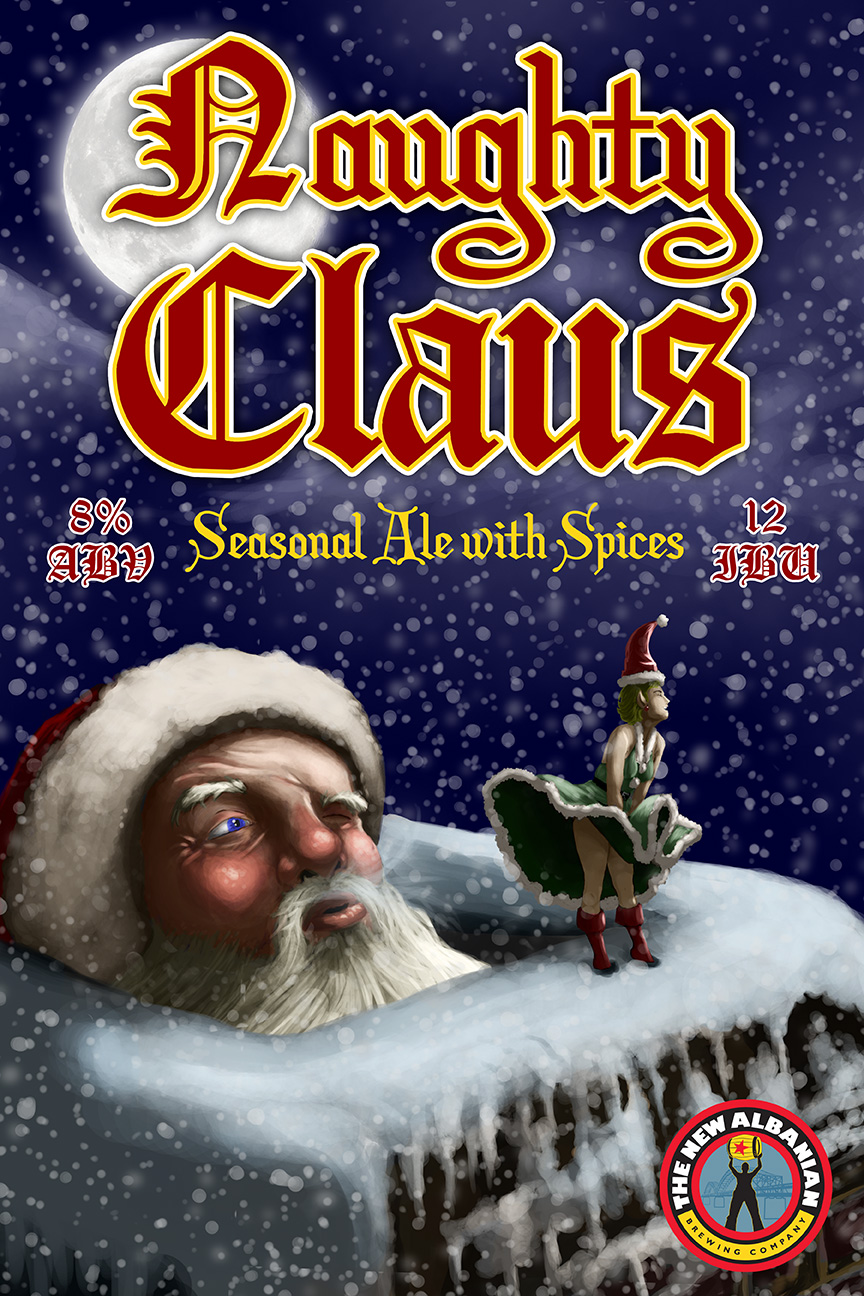 By Roger A. Baylor
As Chico Marx once presciently observed, there ain't no sanity clause, and that's why restricting one's choices to either naughty or nice in the sense of holiday largesse is to commit the fallacy of the excluded middle.
In our view, chimneys and voyeurism go together much like Chico's great uncle Karl and Charles Dickens, author of "A Christmas Carol," because what is this most materialist of capitalist shopping seasons if not the pretext for a much overdue dialectic?
And then there is the man of the hour himself, Mr. Claus, and he needs his daze off, too, just like the rest of us. NABC's annual ale in his honor debuted in 2006, and since 2011, the recipe has held fast, as formulated by our director of brewing operations, David Pierce, whose first batch of Christmas ale at the Silo brewpub in 1992 predates the birth of today's Naughty Claus drinkers of a certain, youthful legal age.
Naughty Claus is NABC's signature Fall/Winter seasonal release, available on draft and in 22-oz bombers from NABC's wholesalers in Indiana and metropolitan Louisville. It also can be enjoyed in all forms at NABC's two New Albanian locations beginning on Wednesday, November 26.
—
Naughty Claus
X-mas Spiced Ale
ABV: 8%
IBU: 12
Color: Orange to amber/brown.
Flavor: Medium- to full-bodied. Malty/fruity backdrop, classic Christmas spiced character (ginger, cinnamon, nutmeg, orange peel).
Compare to: Great Lakes Christmas Ale, Old Fezziwig.
Description: Quintessential X-mas. Malts include Rahr pale, Castle aromatic and Crisp medium crystal, with Hosey autumn gold and midsummer day honeys. Hops are German Hallertauer Magnum. Sweet and bitter orange peel, fresh ground ginger, Vietnamese cinnamon and West Indies nutmeg are the spices (with dry-gingering in the Brite tanks). NABC's house Chouffe yeast completes the scene. 
Recipe suggestion: Seeing as Naughty Claus shadows the Wassail bowl, it isn't an easy call, but since turkey and ham with all the trimmings are common Christmas meals, why not start there?
Updated November 2014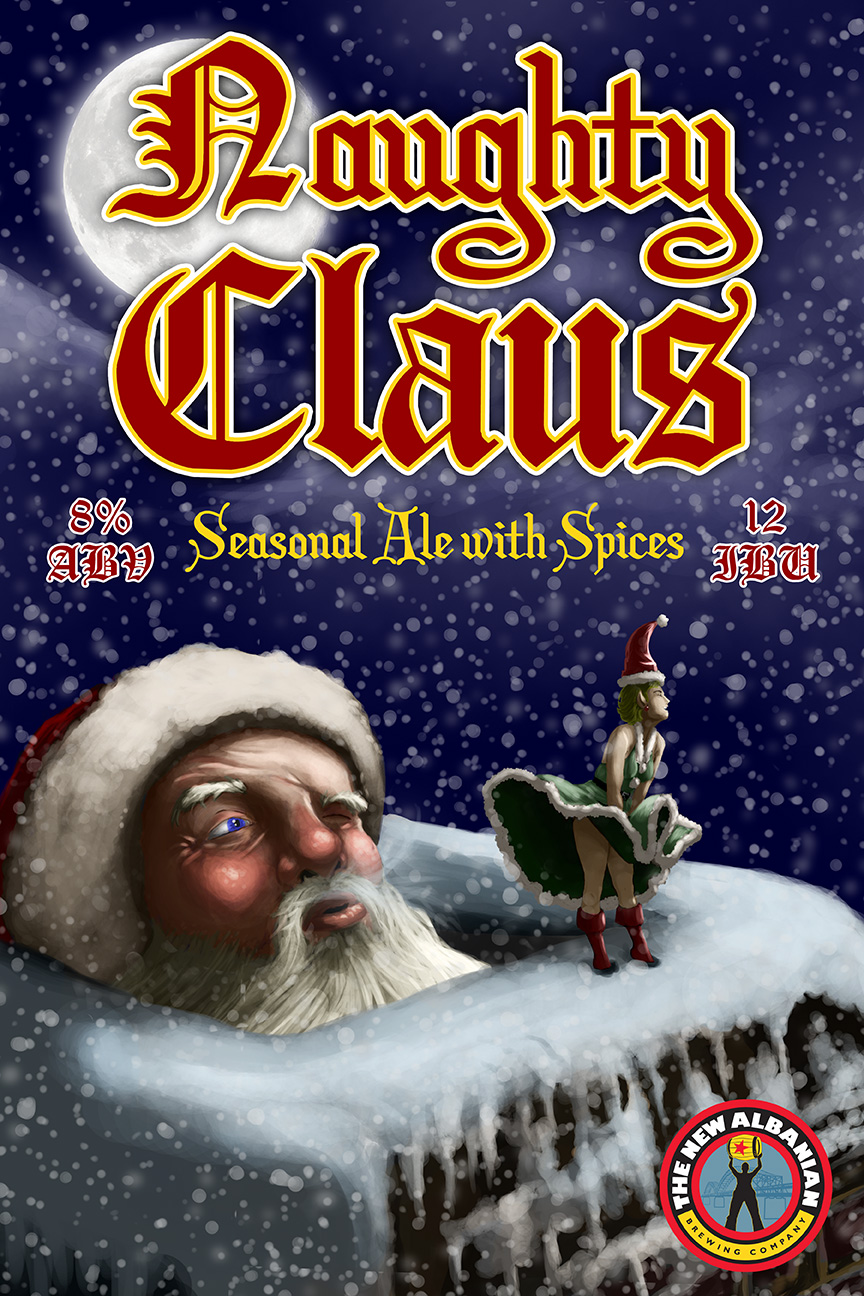 ————-
The Story of ThunderFoot.
By Roger A. Baylor
Honestly, I remember very little about it. Perhaps that's the whole point.
—
ThunderFoot
Oak Aged Cherry Imperial Stout
ABV: 12%
IBU: 77
Color: Black.
Flavor: Full-bodied.
Compare to: Stone, Founders and many other commercially-brewed Imperial Stouts.
Brewery Notes: Malts used in ThunderFoot are Pale, Chocolate, Roast, Special B, CaraMunich and Flaked Oats (also, sucrose is added). Hops are US Galena and Styrian Celeia. ThunderFoot is aged on medium toast American oak with mass quantities of Bing and Tart cherries, and fermented with NABC's house yeast (OG 25 degrees Plato).
Description: There can be no doubt. ThunderFoot actively renounces the gentle tweak, the mild revision, and the imperceptible hint. ThunderFoot neither seeks to make a plausible case for adaptive reuse, nor can it be bothered with the nuances of historical preservation. ThunderFoot puts its elongated foot squarely down, advocating your palate's restructuring the old-fashioned way – whole cloth, entire, complete, irresistible, certain and inevitable.
History & Release: ThunderFoot was first brewed in 2005 at the Research & Development Brewery by Jesse Williams and Jared Williamson. The most recent batch was brewed at Bank Street Brewhouse, and is being released in November 2014 in kegs and 22-oz bombers, all of which have been pre-sold to NABC's wholesalers in Indiana and metropolitan Louisville. ThunderFoot will appear periodically at NABC's two New Albanian locations.
Recipe suggestion: Borrow a page from the Port wine playbook: Cheese, nuts, and maybe a smear of chutney on the side. Or maybe Nutella and bacon.
Updated October 2014