Again in 2014, look for NABC beer at New Albany's Bicentennial Park Concert Series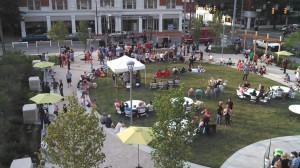 New Albanians and Metro Louisvillians, kindly take note.
Once again in 2014, the city of New Albany will be offering a summer concert series to be held at Bicentennial Park, which is located downtown on the corner of Spring and Pearl – a block away from NABC's Bank Street Brewhouse.
As in 2014, NABC will be vending its beers of proven merit at the Friday evening shows, which run from 6:00 p.m. to 9:00 p.m.
Here is the tentative plan for the city's summer concert series in 2014, as well as the annual July 3 event, during which NABC beer will be available. Information is subject to revision, and both performers and beers are yet to be announced.
In a renewal of tradition, NABC again will donate a percentage of the proceeds from these shows to our friends at Rauch Inc. and Open Door Youth Services.
Bicentennial Park Concert Series (and one other) Dates for 2014
Friday, May 30
Friday, June 6
Friday, June 13
Friday, June 20
Friday, June 27
Thursday, July 3
The city of New Albany's annual Independence Day celebration, concert and fireworks show always takes place the day before the 4th, on the 3rd, at the New Albany Amphitheater. The Amphitheater is located at the foot of Pearl Street, across the levee, by the riverside.
Friday, July 11
Friday, July 18
Friday, July 25
Friday, August 1
Friday, August 8
Friday, August 15
Friday, August 22
(photo courtesy of Gary Humphrey)