A tale of two Houndmouth imageries
After chatting back and forth with the band, and with more time to think about it, we're withdrawing the original Houndmouth (Hoppy American Wheat Ale) artwork and going with a different one. Tony Beard's new look for Houndmouth: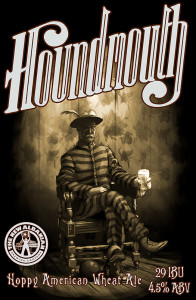 The previous image will be re-purposed for a future NABC ale. It's too good not to use; it's just that the new Houndmouth fits the band's ethos a bit more tightly.