New Albany Crit means bicycle racing in downtown NA this Sunday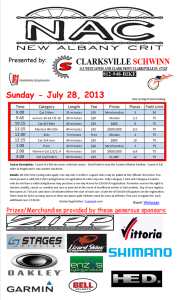 It's a new/old idea: The New Albany Criterium, to be held on Sunday, July 28, from 9 a.m. to 5:00 p.m. It's the first year for this bicycle racing event, but not the first time there has been bike racing in downtown New Albany: Da Vinci Downtown 2003.
The New Albany Crit is presented by the Clarksville Schwinn Racing Team, and is a classic six corner criterium in the heart of historic downtown New Albany. A criterium, or crit, is a bike race held on a short course (usually less than 1 mile), often run on closed-off city center streets.
For more information on this new event, hit Facebook. It sure looks like great timing for the Bloody Mary Bar at Bank Street Brewhouse, Sunday carry-out growlers, and BSB's new, extended Sunday operating hours.